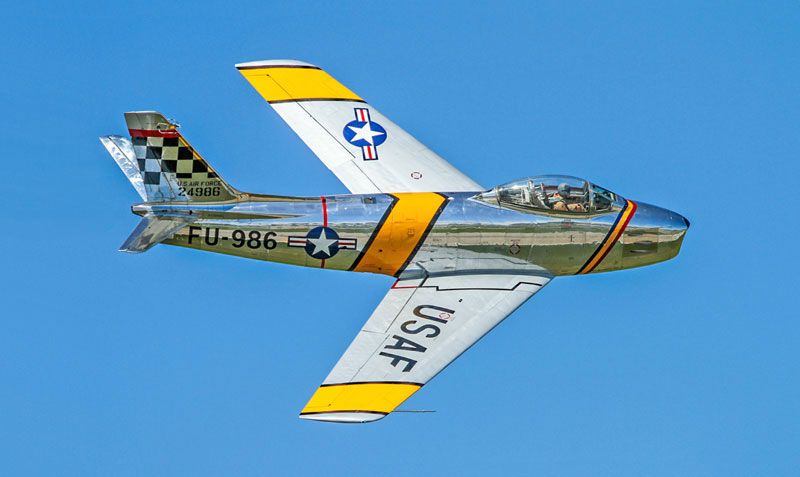 The North American F-86 Sabre, sometimes called the Sabrejet, is a jet fighter produced by North American Aviation. The Sabre is best known as the United States' first swept wing fighter that could counter the similarly-winged Soviet Mig 15 in high-speed dogfights over the skies of the Korean War (1950–1953). 
Its success led to an extended production run of more than 7,800 aircraft between 1949 and 1956, in the United States, Japan and Italy. Variants were built in Canada and Australia. The Canadian Sabre added another 1,815 air frames, and the significantly redesigned CAC Sabre, had a production run of 112. The Sabre was by far the most-produced Western jet fighter, with total production of all variants at 9,860 units.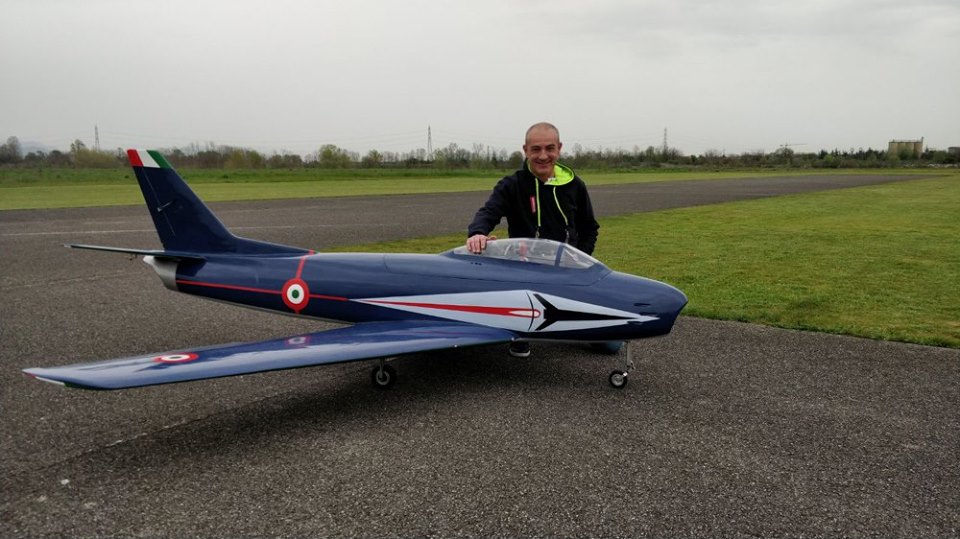 "MIRCE MODELS"

in partnership with Damiano Orizio offer short wooden kit for 1/4 scale F-86 Sabre RC jet model.

Scale: 1/4

Wingspan: 2825 mm / 111,2"

Length: 2850 mm / 112,2"

Weight: around 20 kg

Turbine: from 180 Nm

Radio: minimum 6 channel

CG: on the middle of the aluminum wing joiner tube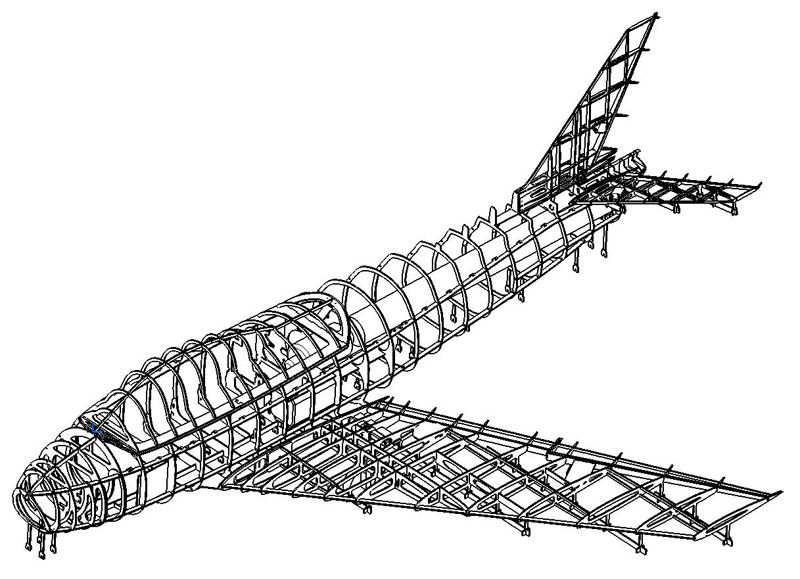 Very
important to
accentuate

is that complete model was first drawn in 3D program.

Every ply part of model frame construction is laser cut.
In combination with 3D drawing,

parts

fit perfectly and modeler need minimum time to assemble F-86 Sabre kit.

Also, the program calculates all structural loads and there is no fear that the model could break up in the air.


Until now Damiano made more than 300 flights with this model!!!!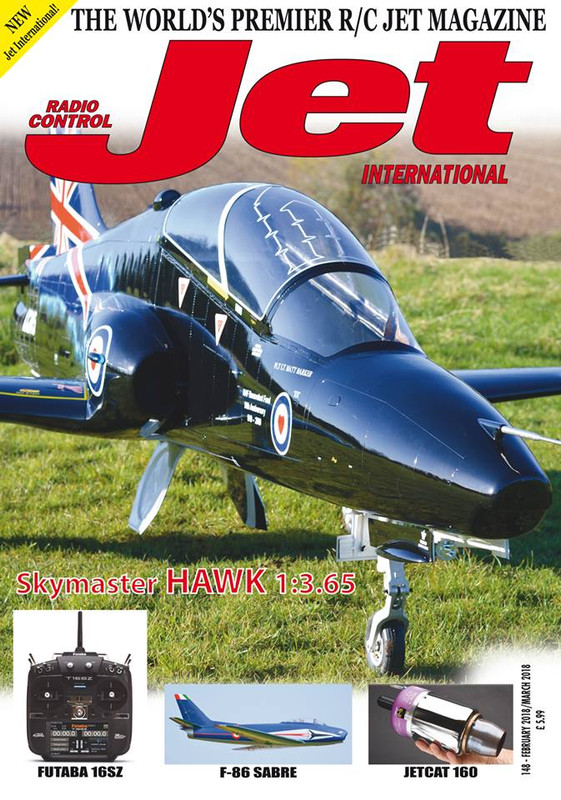 In 2018 Februar / March issue of "RC Jet International magazine" you can read big text on eight pages about this Sabre:

https://postimg.org/gallery/3cm9zhwam/

Serious text written by the constructor.
Damiano from first hand describe all details and Sabre flying characteristics, so this is great for all our F 86 wooden kit buyers.
F 86 Sabre short wooden kit: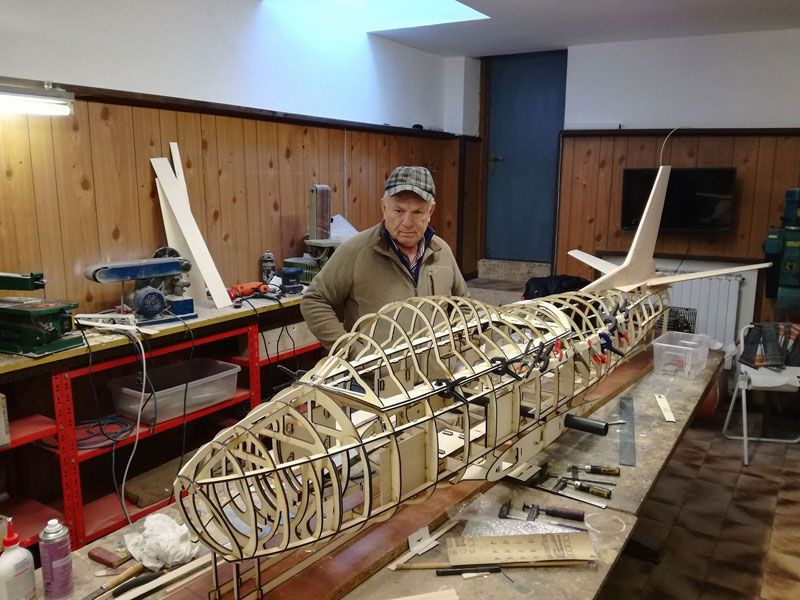 Few pictures during building phase...



Much more pictures on Damiano's Facebook page:
https://www.facebook.com/damiano.orizio/media_set?set=a.10210619115424900.1073741834.1557775094&type=3


Peter Gahlgren made on Youtube chanel many videos about building the F 86 Sabre:

Price for short wooden kit is

430,00 Euro.


Shipping is not in kit price, but for example, for USA shipping cost 75,00 Euro.
Payment is with Pay Pall service (+ 4,5% fee on total price)

Wooden kit and all other parts are on stock, next day after payment the package will be sent.
Optional parts:
-

Aluminum tubes

(wing joiner & tubes for rudder and elevator
) - 50,00 Euro

* 25,00 Euro are tubes and 25,00 Euro cost shipping - must be send separately because size
* you must have wing joiner tube when made fuselage & wing for alignment!!!!!!!
We
recommends covering the air frame with 3 mm balsa and 100 gr fiberglass cloth & epoxy resin.
Tech support & help in building process is non-stop available on e-mail: 
mirce.rc@gmail.com