The North American F-100 Super Sabre is an American supersonic jet fighter aircraft that served with the United State Air Force (USAF) from 1954 to 1971 and with the Air National Guard (ANG) until 1979.

The first of the Century Series of USAF jet fighters, it was the first USAF fighter capable of supersonic speed in level flight.
The F-100 was designed by North American Aviation as a higher performance follow-on to the F 86 Sabre air superiority fighter.
"Mirce models" F-100 Super Sabre RC jet model.

Scale: 1/4,8

Wingspan: 2500 mm / 98,4"

Length: 2865 mm / 113", with front tube 3150 mm / 124"

Weight: 22 - 23 kg

Turbine: from 180 Nm

Radio: minimum 6 channel

Around 10 years ago this model in designed in the 3D program, but the wings, the elevator and rudder were made of foam.
That model flew more than 750 times !!!
I got drawings for fuselage, so I had with my friend Martin to draw again all the foam parts out of the wood, to be able to offer a wooden kit.
It is again important to
accentuate

that complete model was first drawn in 3D program.

Every ply part of model frame construction is laser cut. In combination with 3D drawing,

parts

fit perfectly and modeler need minimum time to assemble F-100 Super Sabre kit.

We also offer some 3D printing parts for faster and easier building.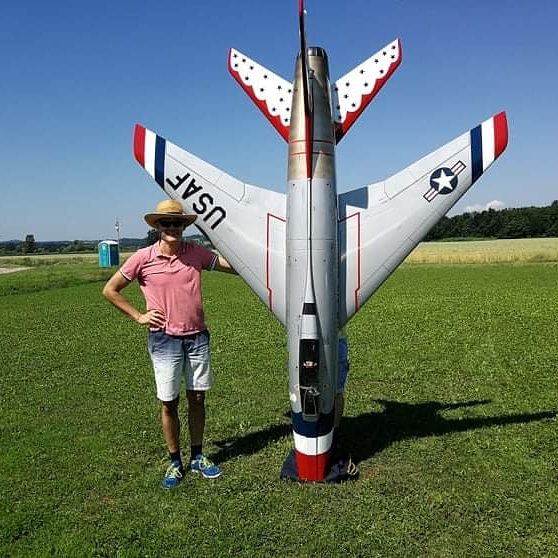 After first design,
"Mirce models" made a second generation of F 100 Super Sabre wooden kit.
By dimensions, the model is the same as the previous one, but it differs in a lot of details. 
- ailerons and flaps are of a different shape.

- the front part of the fuselage is of more scale shape and will be printed on a 3D printer.
- fuselage upper parts in front of the cabin will be also printed on 3D printer. This will greatly reduce the production time.
- the front landing gear is moved backwards to the scale position.
- the main landing gears on this model are an integral part of the fuselage, and not wings as on the previous one. Dimensions of the wheels & main struts are more scale.

- the suction channel is divided into two sections deeper in the fuselage.
- the fuselage is split into two parts behind the wing. On the previous model, the place of disassembly was in front of the wing.

- 4 round aluminum tubes reinforce the fuselage on the place of disassembly.
- the rear part of the rudder have now a scale shape printed on 3D printer.
- there is a template plate for making wings.
- the rear cone on the fuselage will also be printed on a 3D printer, same like main landing gear doors, leading edges of wing and elevators, wing, elevator and rudder tip.

- elevator linkage system is update with stronger elevator - servo CNC made aluminum part and we add bearings for no idle on elevator.

All other details are same like on previous model.

Cockpit fit also from previous model.

Now, you can choose between one piece fuselage and fuselage from two parts.
You can made complete model without 3D printed parts. Printed parts allow you to quickly and accurately create a model.
Album with photos during building first & second generation F 100 Super Sabre you can see in:
This is F 100 Super Sabre from first generation wooden kit, but some parts and building technique are same with second generation.
Video of the flight of Aleš's F 100 Super Saber model.
This is Super Saber (gen. II).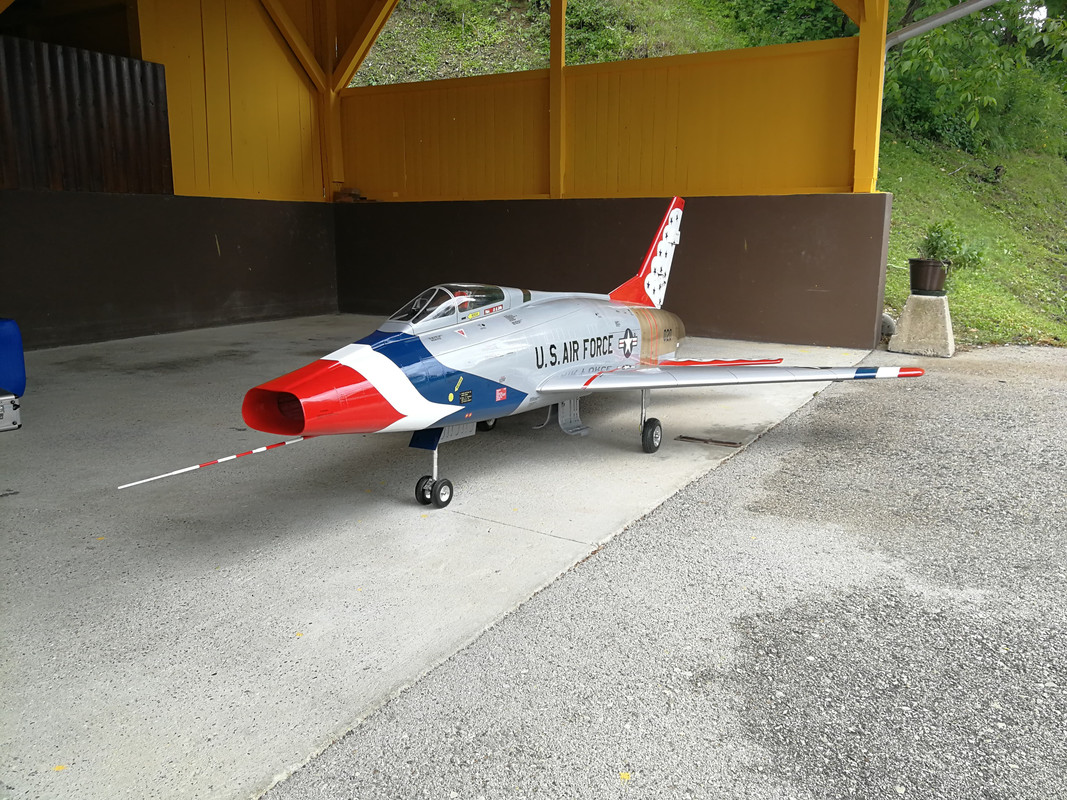 - Wooden kit - 392,00 Euro 
(NEW PRICE - 20% instead of 490,00)

   Shipping is not in kit price, worldwide shipping cost 90,00 Euro.
-
Aluminum tubes
- 25,00 Euro (wing joiner, tubes for elevator, wing contra rotating pins
)
* you must have wing joiner tube when made fuselage & wing for alignment!!!!!!!
- Transparent canopy
- 45,00 Euro
- Wing tanks & pylons wooden kit  - 45,00 Euro

*You can made complete model without 3D printed parts.

Printed parts allow you to quickly and accurately create a model.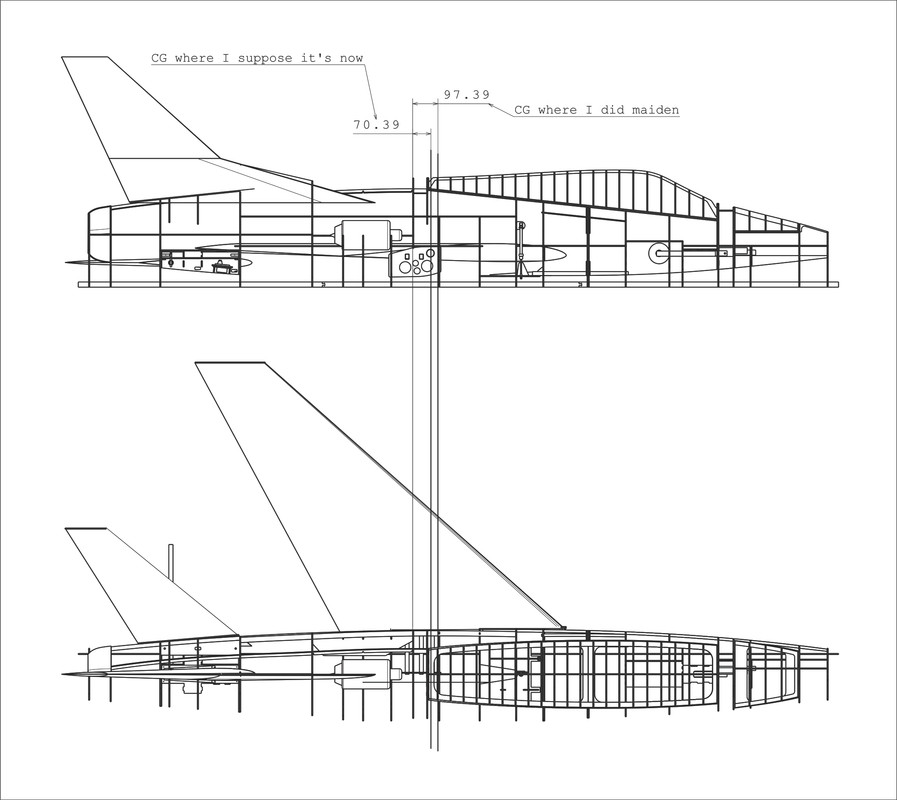 Advice
for successful F 100 flight:
- necessarily use air brake on fuselage during landing, extremely change landing speed !!!!
- use maximum flaps on landing

- don't use expo on elevator, maybe you can use little a negative expo !!!!

The wooden kit is assembled as a "Puzzle", each part has its own place, does not have two identical parts and cannot be reversed or positioned differently.
We always send drawings for easier assembling.
Before gluing, always assemble the part you are doing without adhesive.
This allows you to see the assembly process.
For wings, elevators and rudder you will get building template!!!
We
recommends covering the air frame with 3 mm balsa and 80 - 100 gr fiberglass cloth & epoxy resin.
Info, tech support & help in building process is non-stop available on e-mail: 
mirce.rc@gmail.com